ALTER project members met in Y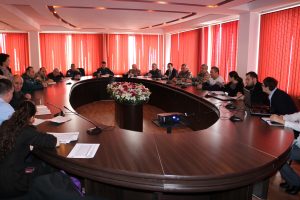 erevan on March 1st and 2nd to finalize planning for upcoming tabletop and field exercises to take place in June and October 2019. These exercises will test action plans, assess inefficiencies, and educate ministry staff and the public on their roles during an emergency. The meetings were hosted at the Ministry of Emergency Situations (MES) by the DRR National Platform (ARNAP), ALTER's lead partner for the exercises.
Partners began the meeting by reinforcing the idea that there are two key points for the upcoming exercises: their integration with existing exercises being implemented by the Armenian government and awareness of the local population in ALTER's pilot areas about the exercises and their purpose. MES representatives at the meeting confirmed that the dates for the exercises correspond to their existing tabletop and field exercise plans. These exercises also hope to include the participation of the private companies operating in each pilot site.
Beyond planning for the exercises, Dr. Alexander Arakelyan of AUA's Center for Responsible Mining presented dam-break flood models for the Geghi Reservoir and Geghanoush tailing management facility in the Kapan pilot site. Discussion of the scenarios by team members and ministry officials yielded important insight on how the model should be adjusted to better reflect reality. Officials from MES pledged to provide improved information and data to help create the improved model. The representatives from ContourGlobal, whose hydroelectric infrastructure is a part of the Sisian pilot area, stated that they are also in the process of developing dam break models for their hydroelectric cascade.
ALTER partners also discussed ongoing development of the project's Web-GIS system, its benefits, and a role for the proposed system in broader data sharing and exchange in Armenia.
Attending the meeting were ALTER partners from the National Observatory of Athens, the European University of Cyprus, the AUA Center for Responsible Mining, and the DRR National Platform .In addition to ALTER partners, key leaders from MES were present as were leaders from the Seismic Hazard Protection department. Representatives for ALTER private sector partner ContourGlobal also attended the meeting.